Visit us in Manhattan, Now Open!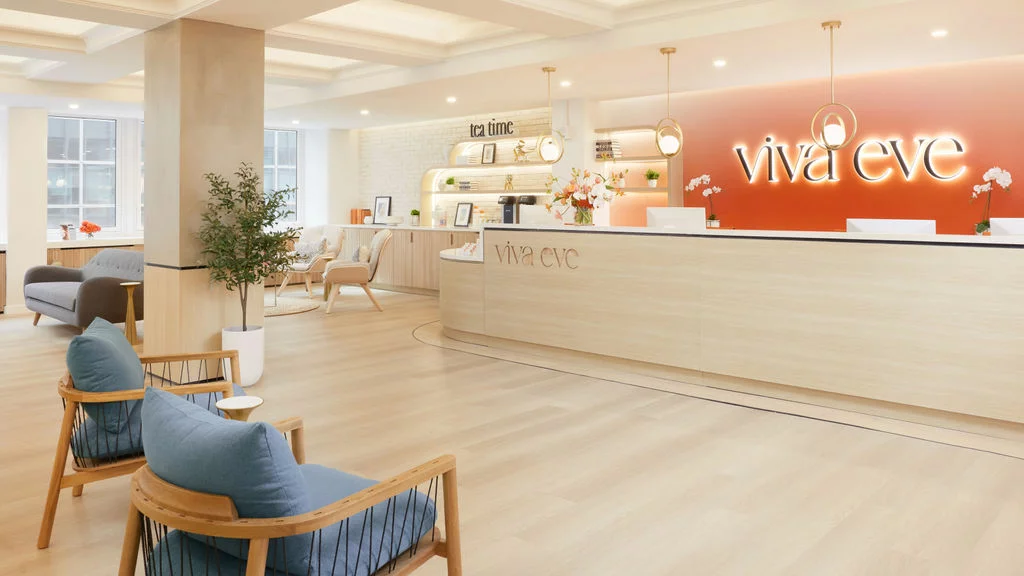 Directions to our Ob/Gyn Midtown East & Fibroid Treatment Center Manhattan
Give us a call:
Location:
Office Hours:

Viva Eve New York City's Mission
With 30+ years of history serving women in the NYC area, Viva Eve's mission remains the same across all our locations – to set a new standard for women's health, empowering every woman to take control of her care. Guided by the simple belief that there has to be a better way to approach women's healthcare, Viva Eve gives every woman a higher level of medical expertise, attention, and customization in a warm and welcoming space.
Ob/Gyn Services at Viva Eve New York City
Viva Eve offers more options for all your women's health needs including gynecology and fibroids under one roof, and expert doctors and specialists caring for women as a whole. Appointments at Viva Eve Ob/Gyn Midtown East, Manhattan and fibroid treatment Center Manhattan include ultrasounds, lab tests, and one-on-one patient education.
Viva Eve New York City's Ob/Gyn services include:
Annual well-woman exams
Pelvic exams
Pap tests
Birth control: counseling, selection and management
Breast health
Prenatal genetic testing and screening
Pregnancy care: pregnancy, labor and delivery and postpartum care
Minimally invasive gynecologic surgery
In-office testing for infertility and evaluation
Diagnostic procedures
Viva New York City is affiliated with Mount Sinai Hospital, among others.

Integrated Specialty Care at Viva Eve New York City
If you're suffering from symptoms like excessive bleeding, severe menstrual cramps, and pelvic pain and pressure, the top-rated specialists, doctors, and nurses at Viva Eve New York City can help. We provide patients with integrated specialty care—from a full range of Ob/Gyn services and fertility planning to fibroid and adenomyosis treatments. With a team of specialists all in house, led by a doctor who knows you well, you receive more in-depth and personalized care tailored to your needs and lifestyle.
Here's the Viva Eve difference:
✔ Extra time in every appointment to hear your concerns, speak with you, and make a custom diagnosis.
✔ A personalized health plan led by an experienced doctor who knows you—so you never have to navigate your health alone.
✔ The multidisciplinary expertise of our providers at Viva Eve New York City ensures that whatever women's health concern pops up, you're in good hands.
Fibroid Treatment at Viva Eve New York City
At Viva Eve fibroid treatment center Manhattan, we believe you shouldn't have to live with the pain, discomfort, and inconvenience of fibroid symptoms. Our team of board-certified physicians and fibroid specialists will help guide you through diagnosis and fibroid treatment options.
Our unique combination of Fibroid Experts from different specialties work together to give patients more choices, offering both surgical and non-surgical treatments that other offices can't, including:
Hormone Treatment – Reduces the production of estrogen and progesterone
UFE – Minimally invasive nonsurgical procedure that blocks the blood supply to the fibroids
Myomectomy – Surgical removal of the fibroids
Hysterectomy – Surgical removal of the uterus
Innovative Minimally Invasive Techniques at Viva Eve New York City
The Fibroid Experts have treated thousands of patients, including hundreds of patients treated with minimally invasive Uterine Fibroid Embolization (UFE). This procedure relieves fibroid symptoms by blocking the arteries that provide blood flow to the fibroids, causing them to shrink and become inactive over time.
The Fibroid Experts at Viva Eve New York City perform UFE procedures in our two operating rooms fully accredited by AAAASF, an organization following the strictest protocols for safety. Our state-of-the-art outpatient facility has the latest equipment, and our medical staff are trained to provide the best level of care and personal attention that our patients expect and deserve.
Before our Viva Eve New York City flagship location opens, we will provide early booking of appointments, coming soon. Please come back to our site for more information on the NEW Viva Eve New York City!