What is a vaginoplasty?
Vaginoplasty is a female genital surgical procedure that tightens the pelvic floor muscles and tissues surrounding the vagina and can also repair vaginal stretches and tears that result from childbirth, yielding a vaginal tightness resembling what the patient had before childbirth.
Why do women choose to undergo vaginoplasty?
Women choose to undergo this reconstructive surgical procedure for a variety of reasons, but ultimately, to restore the vagina to its proper function. A vaginoplasty reverses the toll that the aging process and childbirth takes by removing extra skin and tightening the vaginal canal. It can also repair congenital defects as well as treat vaginal injury due to childbirth, pelvic floor disease complications, and symptoms of urinary incontinence.
Who is the ideal candidate for vaginoplasty?
Age plays a factor when it comes to vaginoplasty. If you are in your 30s, 40s, or 50s and are done having children, you are an ideal candidate. Likewise, if you are in good physical shape and you have decided that now is the time to focus on you, you are a good candidate. If your overall outcome is to regain a tighter and more youthful vagina so that you can start feeling like yourself again, you should consider this procedure.
If you're looking for an experienced vaginoplasty NYC doctor, look no further than Viva Eve!
Overview of Vaginoplasty NYC Journey at Viva Eve
Initial Consultation
Whether in our vaginoplasty Queens or vaginoplasty Manhattan office, after a physical exam you and your specialist will have a detailed discussion on what you would like your cosmetic surgery to accomplish.
Your doctor will review your medical history, make recommendations that will best suit your needs, and address all risks and benefits of the procedures in which you are interested.
At the end of your consultation you will meet with our Cosmetic Gynecology concierge who will address the logistics and finances of the procedure you and your doctor have decided is the right one for you and your individual needs, anatomy, and circumstances.
Your surgery will be scheduled at our vaginoplasty NYC location and you will be provided with comprehensive pre-operation instructions.
Procedure
While you may have begun your vaginoplasty Queens treatment in our Forest Hills office, your vaginoplasty surgery is performed under general anesthesia at our state-of-the-art outpatient vaginal rejuvenation Manhattan center. The procedure usually takes 1-2 hours to complete.
All stitches are dissolvable and do not need to be removed in the office.
Post Op
Your immediate recovery will take place at one of our post-procedure vaginoplasty Manhattan suites and will be supervised by nurses who specialize in caring for patients after a surgical procedure.
You will be able to go home once you feel up to it (usually in an hour or two) and you will be provided with anti-inflammatory and pain-relieving medications.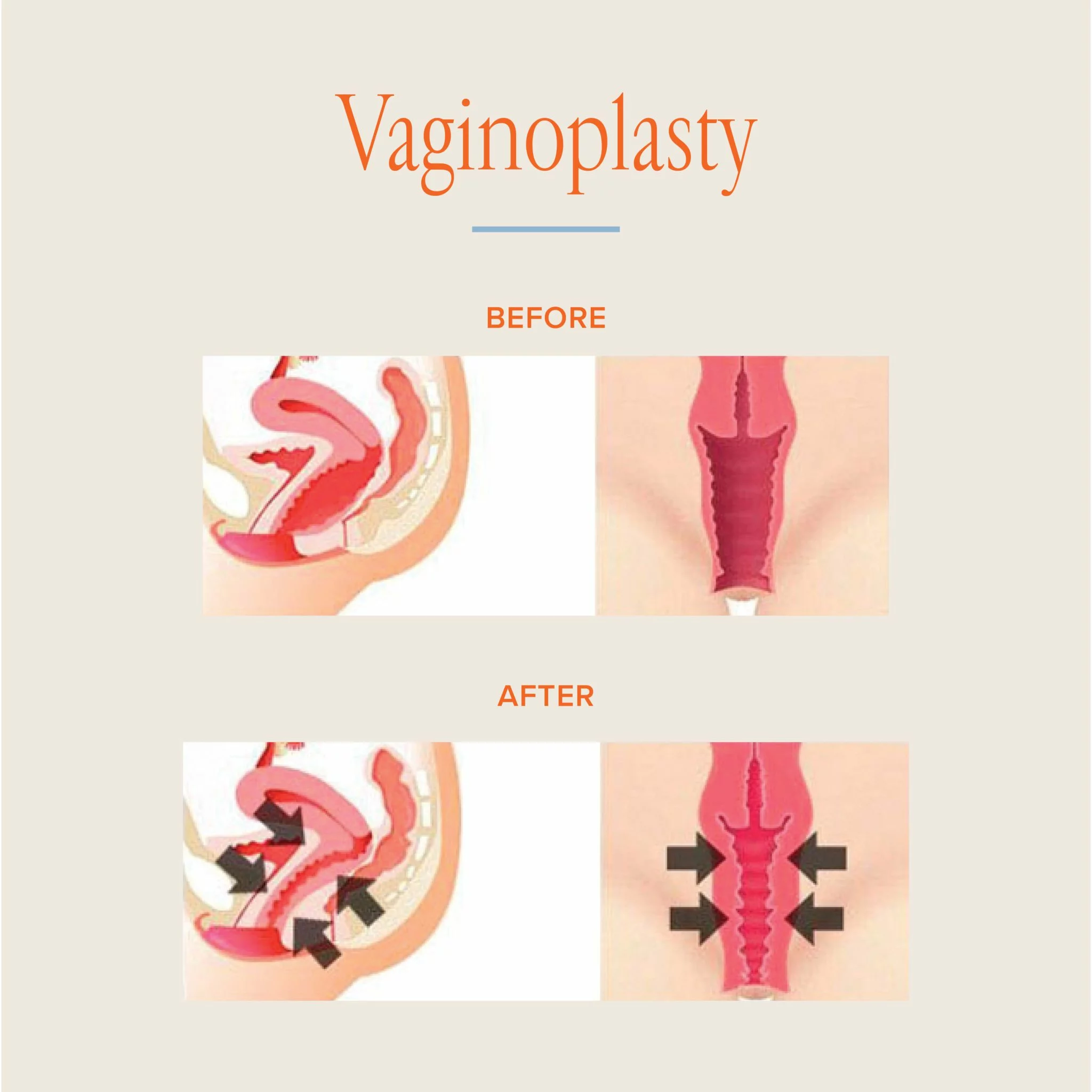 How is the vaginoplasty performed by Viva Eve?
The details of the procedure depend on your goals or medical needs and include reconstruction or recreation of the vagina using various surgical techniques. This is usually done by removing excess vaginal lining and tightening the surrounding soft tissues and muscles. The procedure is performed under general anesthesia.
Typically, vaginoplasty targets a pie-shaped section of the vaginal wall for removal. Once this tissue is cut away, strong sutures reconnect the remaining walls, forming a tighter vaginal canal. The surface mucosal tissue is then sutured in place to maintain normal vaginal functions.
How do I prepare for my vaginoplasty NYC procedure?
Your doctor will order a blood and urine test and a pregnancy test
Your surgeon will plan your procedure in between your menstrual periods
You will be asked to make sure to arrange for someone to take you home after the procedure.
All the other instructions about discontinuing certain medications and supplements and not eating or drinking anything 8 hours prior to the procedure, etc. are very similar to labiaplasty or any other surgical procedure. Your Viva Eve doctor will provide you with detailed instructions based on your specific medical needs.
What is vaginoplasty recovery like?
Pain medication is prescribed to patients to ease discomfort immediately after the surgery. A complete recovery can be expected in about six weeks, as long as your Viva Eve vaginal rejuvenation NYC doctor's detailed post-op instructions are followed properly.
The Viva Eve advantage
Choosing Viva Eve for your vaginoplasty New York procedure will mean that your doctor is both an expert board-certified gynecologist and a skilled cosmetic gynecology surgeon. As gynecologists, our doctors have highly specialized knowledge of female anatomy, nerves, blood supply, and healing characteristics of this sensitive area. Our doctors bring a combined 30 years of experience to every cosmetic gynecology procedure and are dedicated to helping you achieve the physical transformation you envision through our vaginal rejuvenation New York services.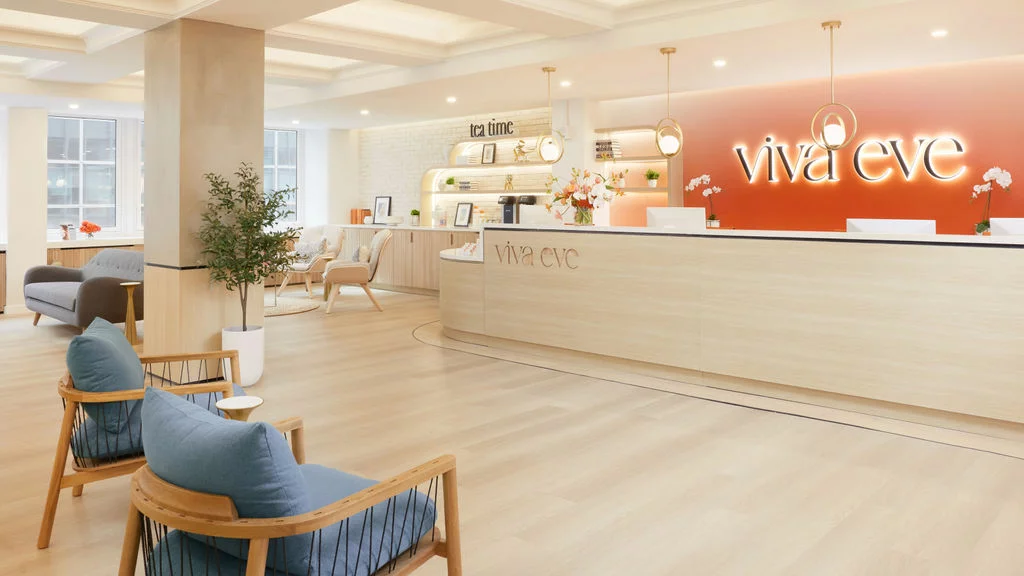 Vaginal Rejuvenation Manhattan
Our state-of-the-art flagship office offers a whole new level of personalized vaginoplasty NYC care to the women of Manhattan. With 2 state-of-the-art ORs built into our vaginoplasty New York suites, women seeking vaginal rejuvenation NYC procedures never have to leave our office to be treated. Conveniently located in the heart of Midtown East, it's a warm and welcoming destination that is accessible to the greater tri-state area.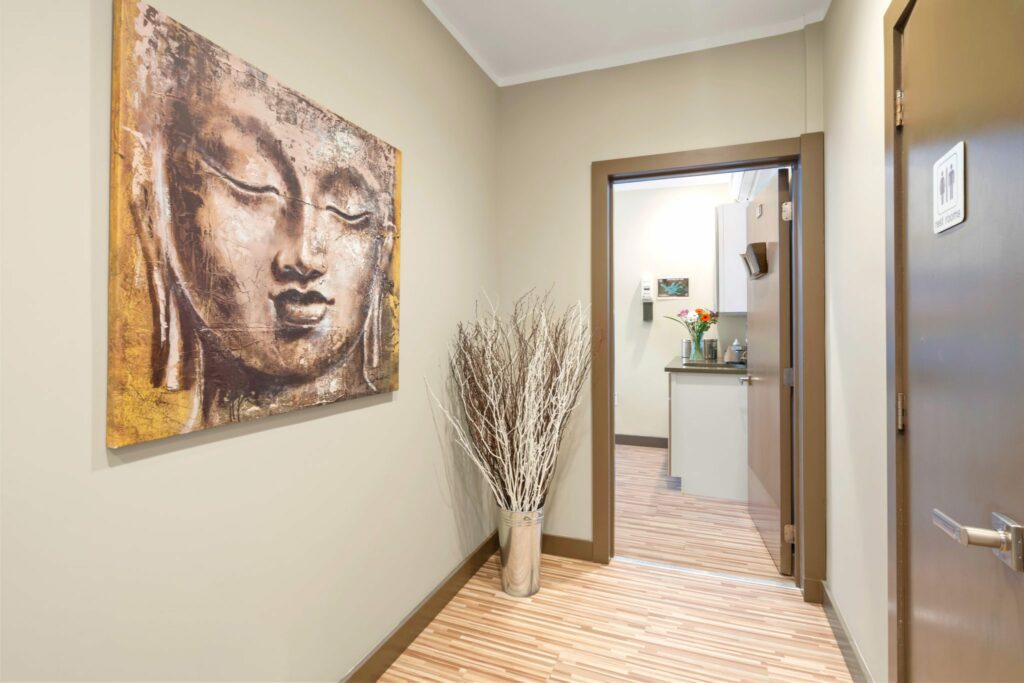 Vaginal Rejuvenation Queens NY
Our tranquil and relaxing Forest Hills Ob/Gyn office is the perfect place to begin your journey into vaginal rejuvenation Queens. With our variety of Ob/Gyns and nurses, any of our providers can discuss with you our new vaginal rejuvenation NYC procedures, including vaginoplasty. To meet with your specialist, you'll be referred to our vaginal rejuvenation Manhattan office in Midtown East.