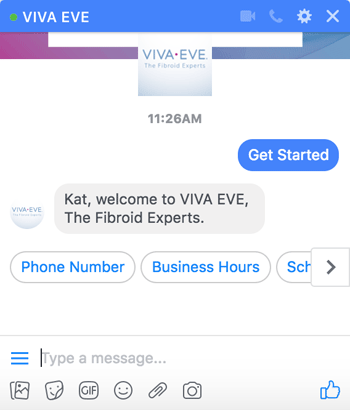 These days, we know that it's easier and faster for people looking to book services or ask questions to be able to find answers online, especially when it comes to something as discreet as their health. That's why we've added a new messenger bot to our Facebook page to answer questions when life is too hectic to step away and call a doctor's office to get information.
We've equipped our Facebook platform with a friendly bot who can answer questions and direct you to the information you're looking for. Whether you're looking for more detailed information about fibroids or the services we offer, sending us a Facebook message is a good place to start, especially if you prefer to interact online.
Simply start a message and you'll see "Get Started." Click that button and our bot will greet you. You can select a message from the options provided, or type your own question. We will continually monitor our messages and update questions to ensure that all answers are identified and responded to over time.
Of course, you can connect with one of our team members outside of Facebook by sending an email to info@vivaeve.com or calling us at 1-866-684-8238. If you're using your smartphone, you can click "Call Now" on our page at the top right corner of our Facebook page if you'd like to speak to one of our knowledgeable patient care coordinators.
Our Facebook bot is just one more resource available to you if you're seeking assistance or information in real time.