A Better Approach to Treating Fibroids
At Viva Eve, we believe that you shouldn't have to live with the pain, discomfort, and inconvenience of fibroid symptoms—which is why our mission is to educate and empower women to take control of their own health so they're informed of all their options through our Fibroid 360™ services.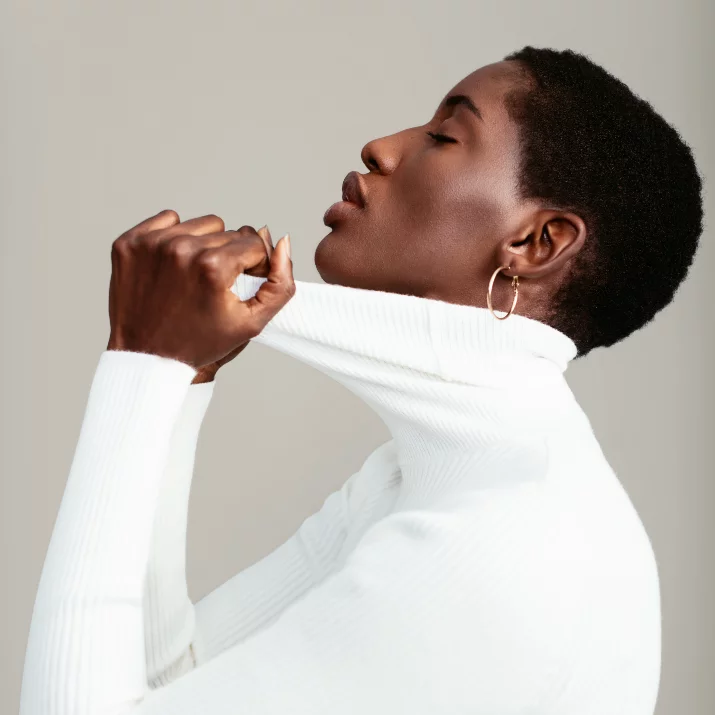 We Are the Fibroid Experts
We're dedicated to the treatment of fibroids, helping thousands of women and performing thousands of UFE procedures.
Our integrated fibroid specialists NYC can present multiple options and perspectives on treatment that you won't find anywhere else.
Everything you need for your fibroids treatment—from initial consultation to your procedure to comprehensive post-operation follow-ups—can be done by your fibroid specialist NYC at Viva Eve.
So you may be wondering, what exactly is a Fibroid? Learn more now.
Fibroid Symptoms
Each woman is affected differently by fibroids. Symptoms vary, ranging from abnormal bleeding to severe menstrual cramps, and even pain during sex. It can be difficult to understand which fibroids are causing symptoms, but a fibroid specialist NYC can evaluate the size, location, and number of your fibroids, and build an effective, custom treatment plan for you.
Common Fibroid Symptoms Include:
Treatment Options Offered by Fibroid Specialists
Viva Eve offers a wider variety of options for uterine fibroids, from nonsurgical uterine fibroid embolization (UFE) procedures to hysterectomies—all under one roof. Whichever treatment you choose, our providers work with you to educate and empower you to choose the best treatment option for yourself.
How it Works
Step
1
Let's Talk
Meet with one of our doctors to discuss your symptoms, medical history and lifestyle. An in-office ultrasound will reveal whether your symptoms are caused by fibroids, adenomyosis, or similar conditions.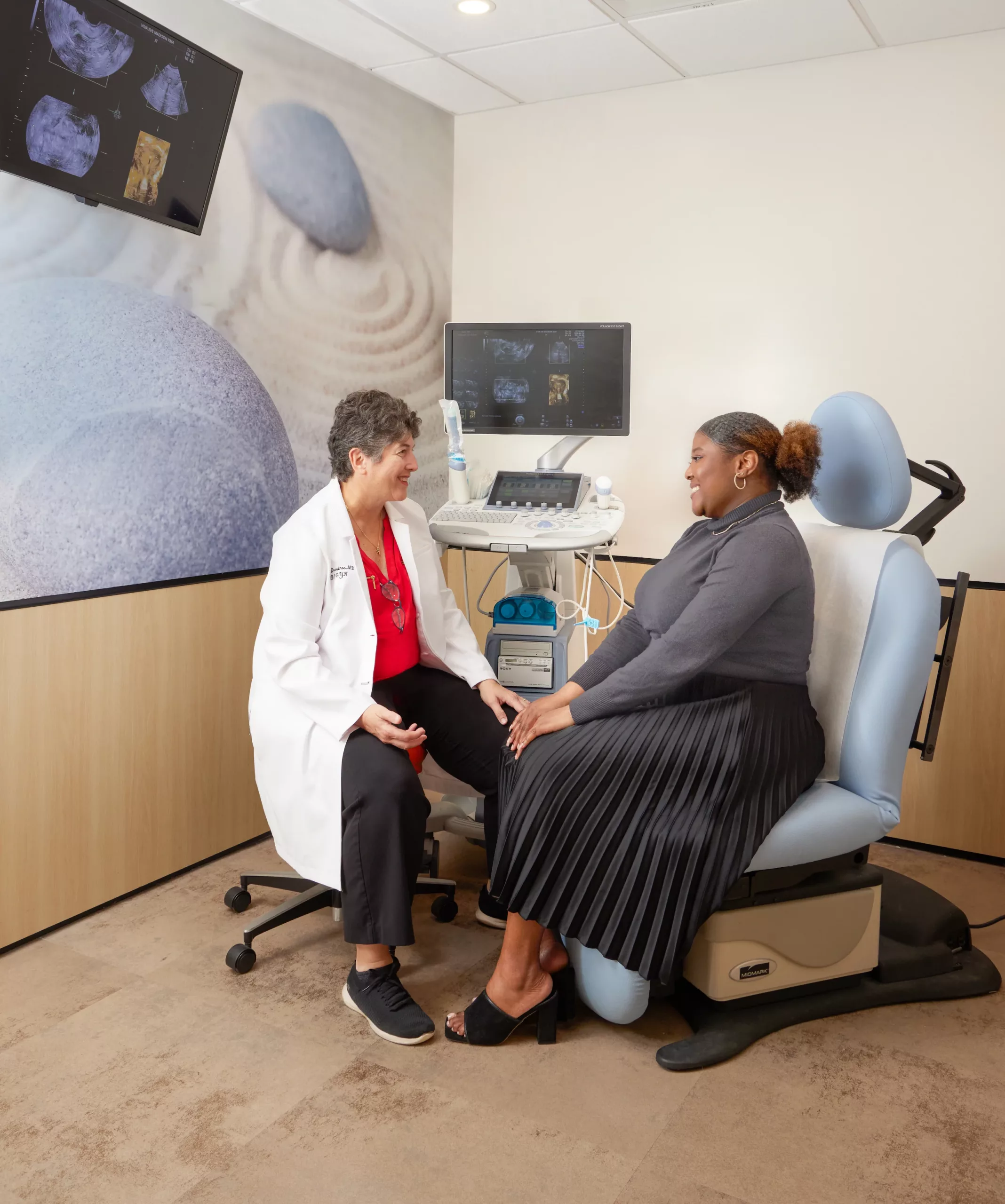 Step
2
Schedule a Screening
Undergo preliminary imaging to confirm the exact size, number, and precise location of your fibroid(s). This test will help your doctor make a personalized plan. (P.S. Not all fibroids need to be treated, some just need to be monitored!)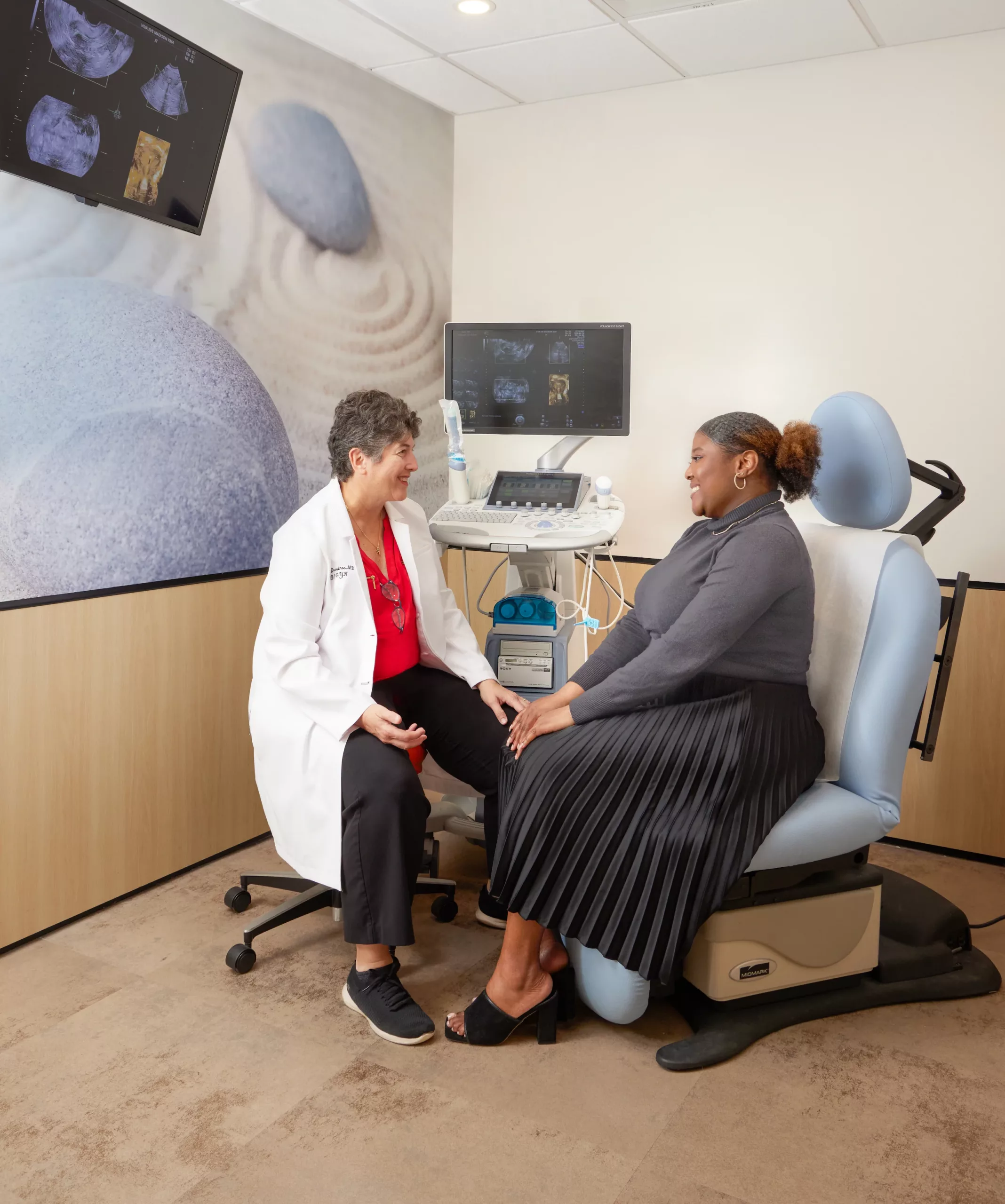 Step
3
Make a Plan
Discuss the results of your screening tests and, together with your doctor, decide on the best course of treatment for you, your schedule, and your health goals. Then, meet with the fibroid specialist NYC who will be in charge of your treatment.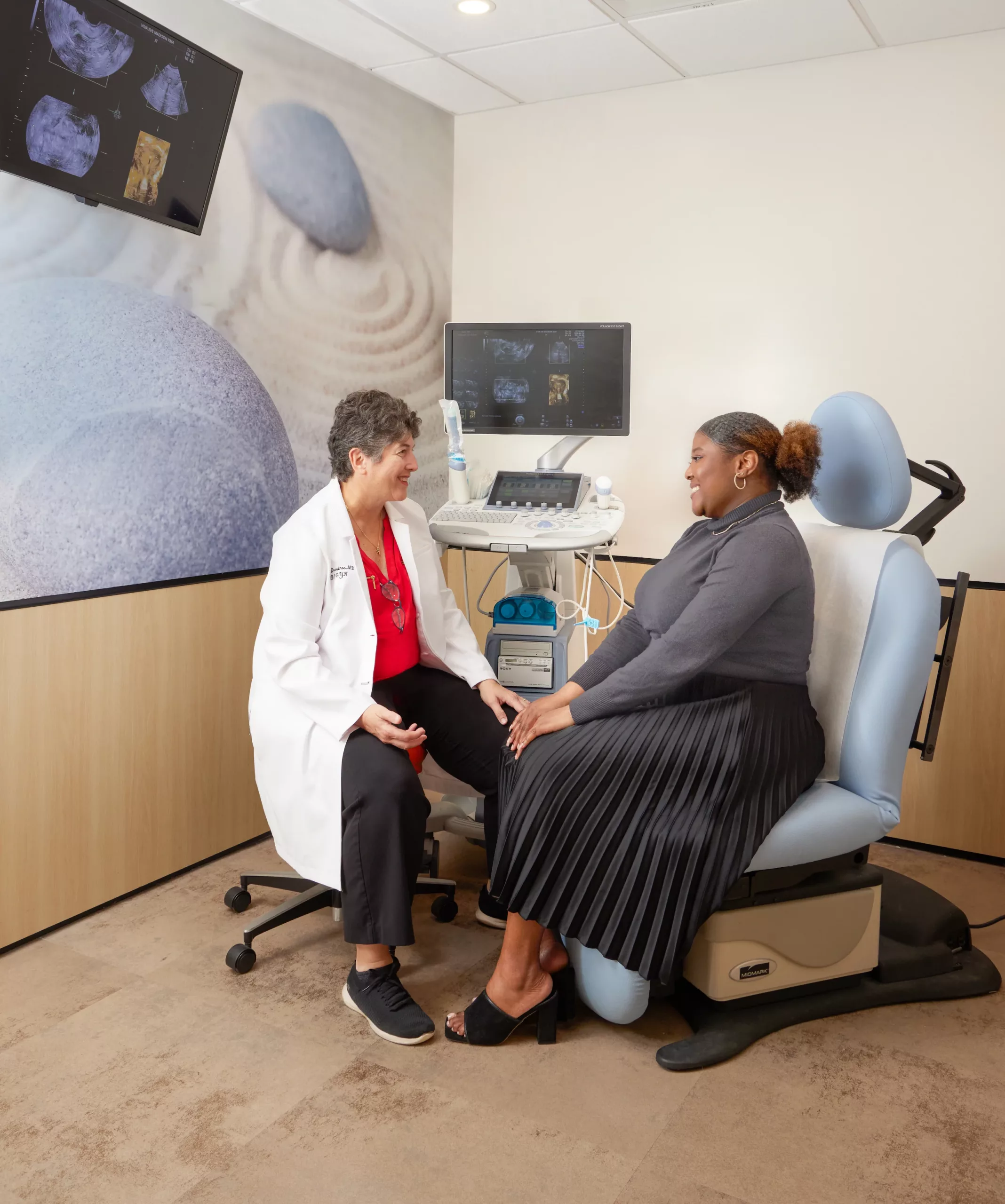 Step
4
The Procedure
Once you choose from our full range of minimally invasive, surgical or nonsurgical treatments for fibroids, you'll undergo the procedure. After, our doctors and your fibroid specialist NYC will follow up with you extensively over several months to ensure your symptoms improve.
Book A Free Call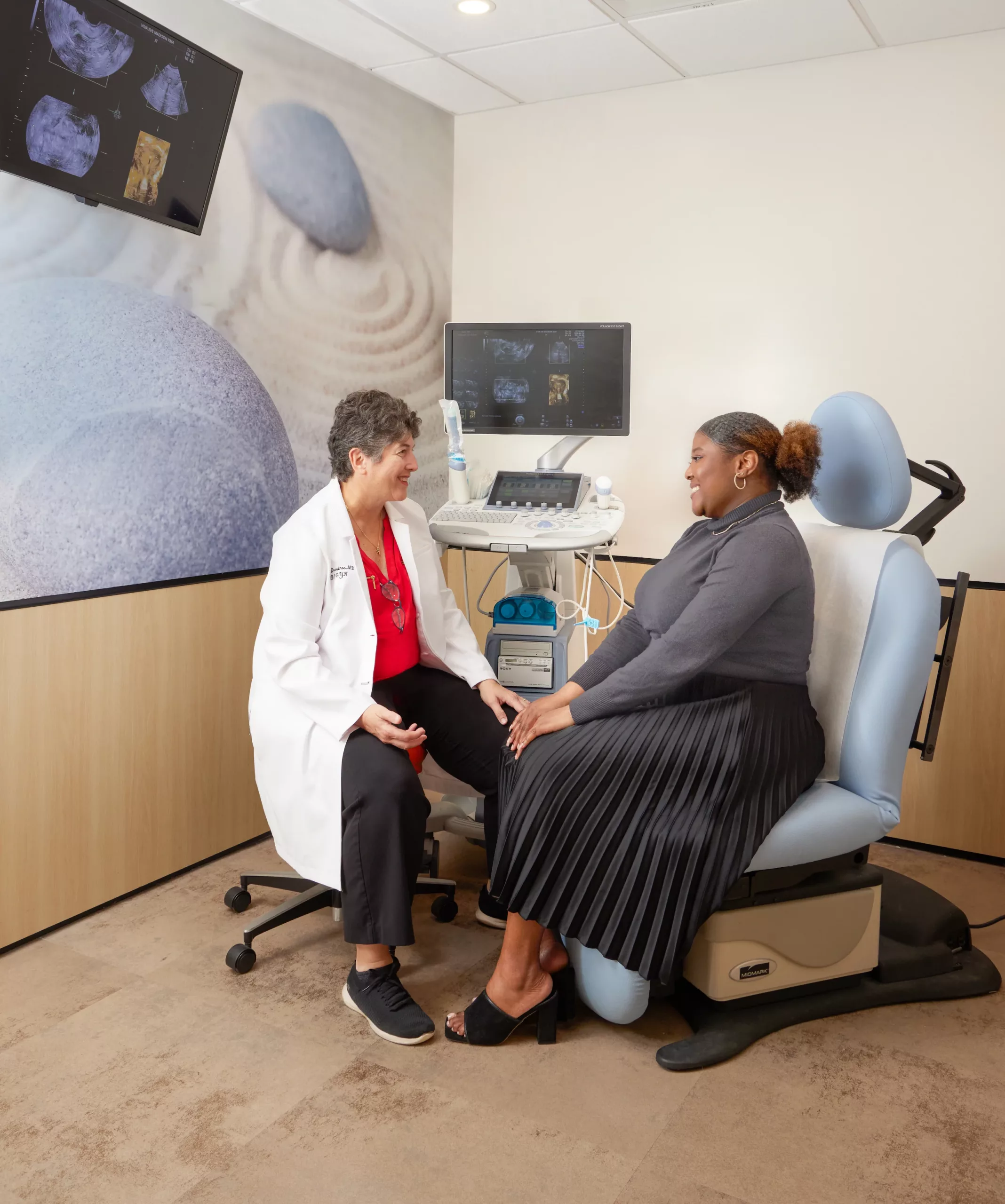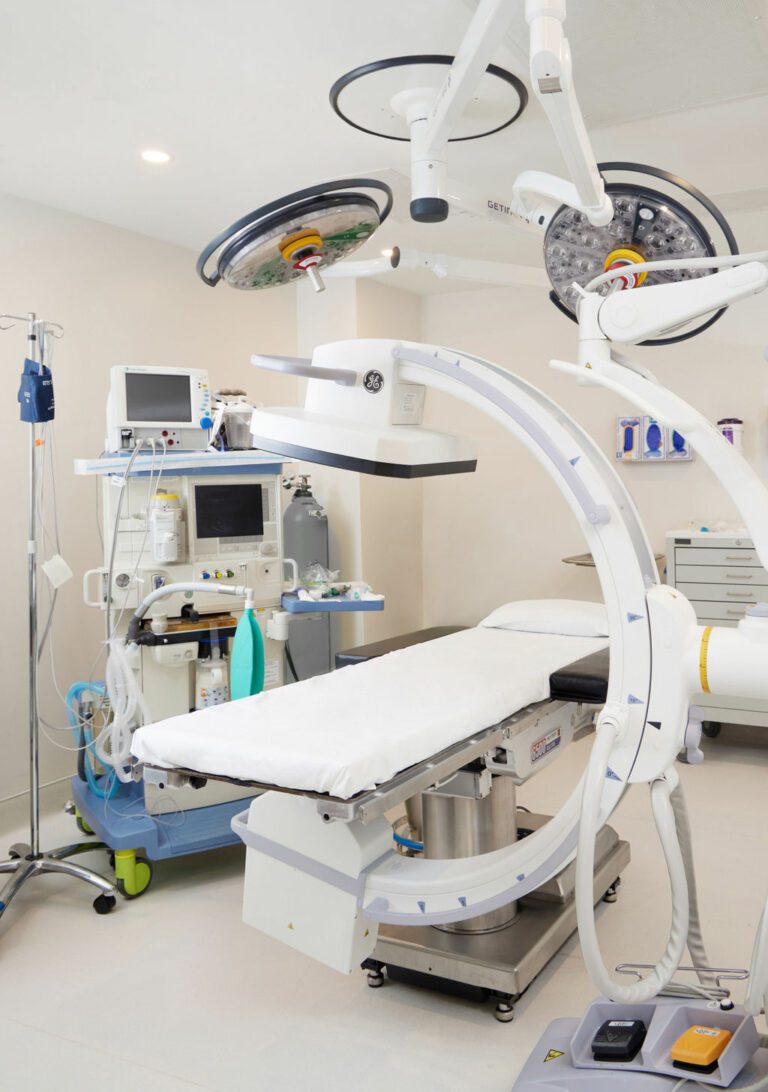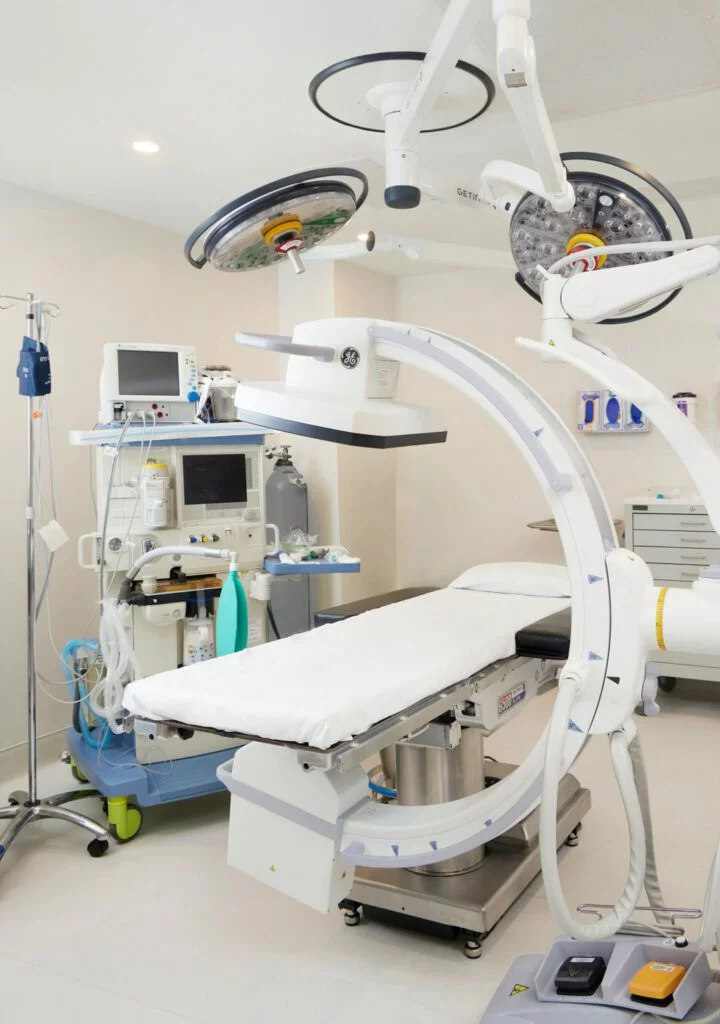 Our AAAASF-Certified Surgical Centers
The Fibroid Experts at Viva Eve perform UFE procedures in the facility's two operating rooms that are fully accredited by AAAASF, an organization following the strictest protocols for safety.
Whether at our Viva Eve Astoria location or our Viva Eve Madison flagship, Viva Eve patients can expect a state-of-the-art outpatient facility that is equipped with the latest equipment, and medical staff that is trained to provide the best level of care and personal attention to patients.
Viva Eve's board-certified physicians deliver an efficient same-day surgical experience and the highest quality care in a patient-friendly environment. Led by Dr. Mohammad Bilal, Director of Interventional Radiology, our interventional radiologists specialize in the minimally invasive and surgical treatment of fibroids and adenomyosis.
Meet Your Fibroid Specialist NYC
Treating fibroids begins with finding the right team. From our caring front-desk staff to our empathetic providers and highly skilled fibroid specialist NYC, we strive to create a warm and welcoming experience for all of our patients.
Meet The Team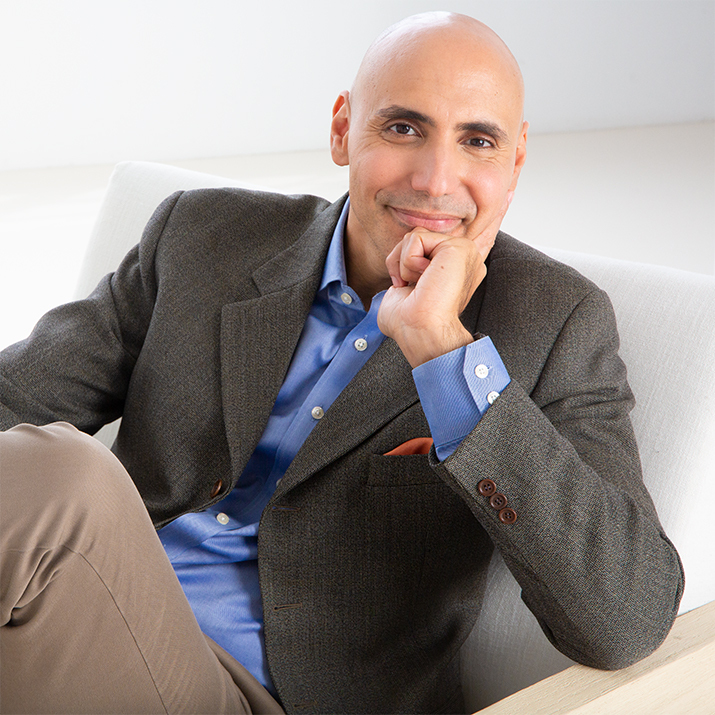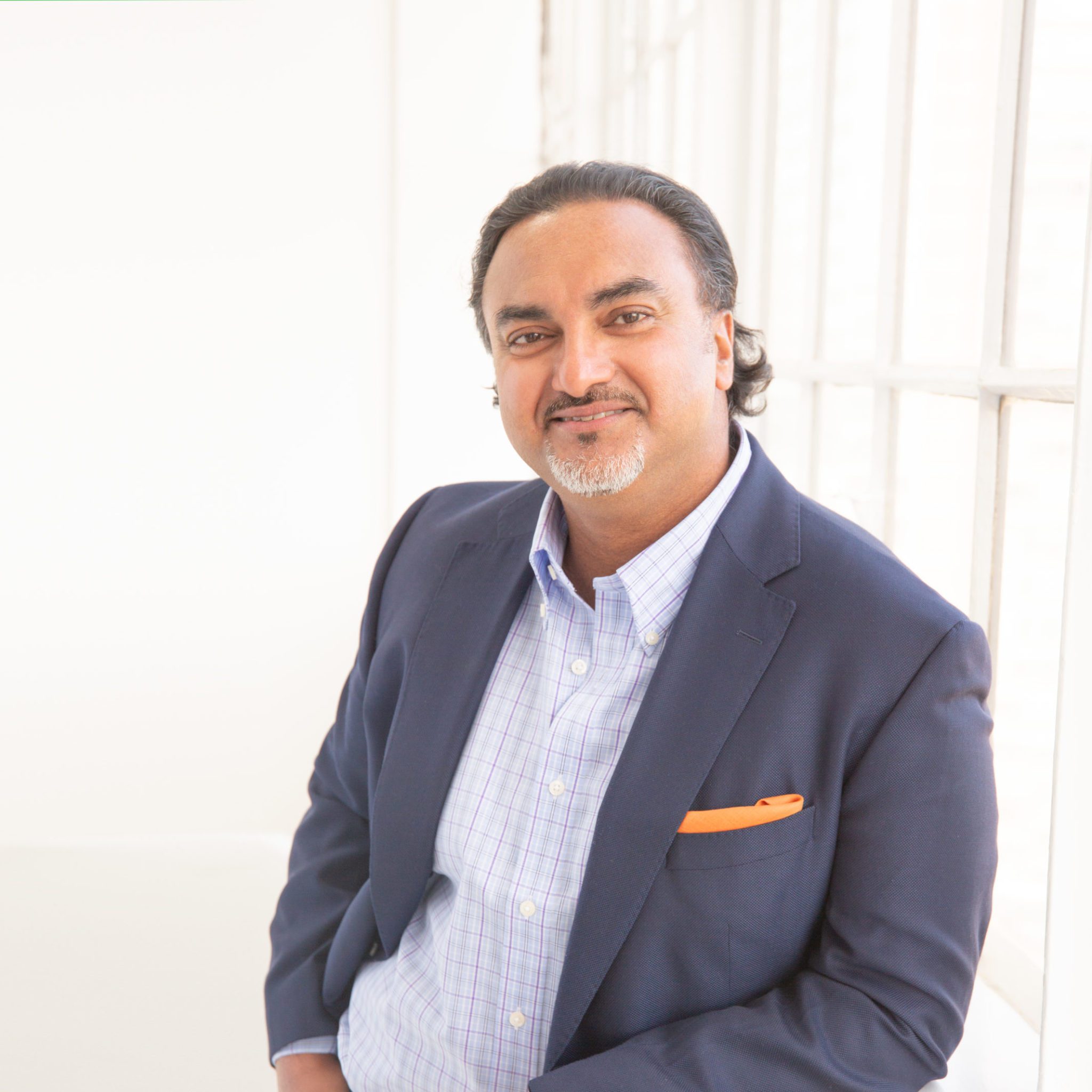 Fibroid FAQs
For more information about our dedicated fibroid care, services, facilities, and more, or to speak with a Women's Health Advisor, please call (212) 988-2111.
Fibroids are noncancerous growths that develop in or around the uterus. There are different types of fibroid tumors, and they can be as tiny as a seed, as large as a melon, or any size in-between. They can cause a variety of symptoms ranging from severe cramps and abnormally heavy bleeding to pain during sex to constipation and incontinence.
All women of childbearing age are at risk for developing fibroids. However, there are a number of factors that make a woman more likely to develop fibroids, including: -Race: Black women are 3 times likelier to develop fibroids and are significantly more likely to experience severe symptoms -Earlier age of onset of menstruation – Women who started their period at a young age are more likely to have fibroids. -Obesity – Women who are overweight are 2-3 times more likely to develop fibroids. -Diet – Diets higher in saturated fat and meat have been linked to higher estrogen levels, which could lead to fibroids forming in and around the uterus. -Genetics/Family History – Women who have a family history of fibroids are 3 times more likely to develop fibroids. -Alcohol/Caffeine – Women who drink alcohol and/or higher levels of caffeine are at a higher risk of uterine fibroids. -Women who've never had children – The risk of fibroids is higher in women who've never given birth compared to women who have. -Age – Premenopausal women are 3-5 times more likely to develop fibroids.
Because they're noncancerous, fibroids are usually not life-threatening. However, for women who suffer from fibroids, the symptoms may dramatically compromise their quality of life. Pain from severe cramping or during sex as well as discomfort and inconvenience from excessive bleeding, bladder pressure, etc., can have a debilitating effect on mood, emotions, and libido. So, while most fibroids aren't life-threatening, many women find them to have a negative effect on their lifestyle.
Traditionally, doctors usually recommended that fibroids be treated by hysterectomy (removal of the uterus) or myomectomy (removal of the fibroids)—both major, invasive surgeries requiring hospitalization with long recovery times and other disadvantages, such as higher complication rates and potential organ loss. For over two decades now, minimally invasive UFE has been used to successfully treat fibroids and help women get back to their lives much more quickly. Know that even some physicians aren't aware of the advantages of UFE over other options, but as the patient, you should get all the facts. And your doctor should support your learning about generally accepted, evidence-supported medical treatments in the context of your circumstances.
Fibroids may affect a woman's ability to conceive for a number of reasons. Fibroids can create a physical barrier to pregnancy if they're positioned in the uterus where the baby needs to be. Large fibroids may prevent a fetus from growing fully because of decreased room in the uterus. Fibroids blocking the cervix or fallopian tubes obstruct the journey or sperm of fertilized egg, preventing pregnancy from occurring.
Women with a family history of fibroids are at increased risk of developing them and are 3 times more likely to develop fibroids. Researchers believe that there may be a genetic component that relates to a woman's susceptibility to developing fibroids. Some women develop fibroids without any family history, so women suspecting fibroids or experiencing symptoms should consult with a fibroid expert.