Mommy Makeover Overview
Every woman's pregnancy is individual – and so is the toll it may take on a woman's body. New moms can be surprised to see how much their bodies change – and stay that way – after childbirth.
Viva Eve is offering comprehensive women's health options for new moms looking to get the perfect mommy makeover in New York. Our goal is to treat you with the empathy and personal attention that you deserve. If you're having trouble finding the time to work on your body and get rid of stubborn fat while taking care of your kids, it is the perfect opportunity for you to treat yourself to a mommy makeover in NYC.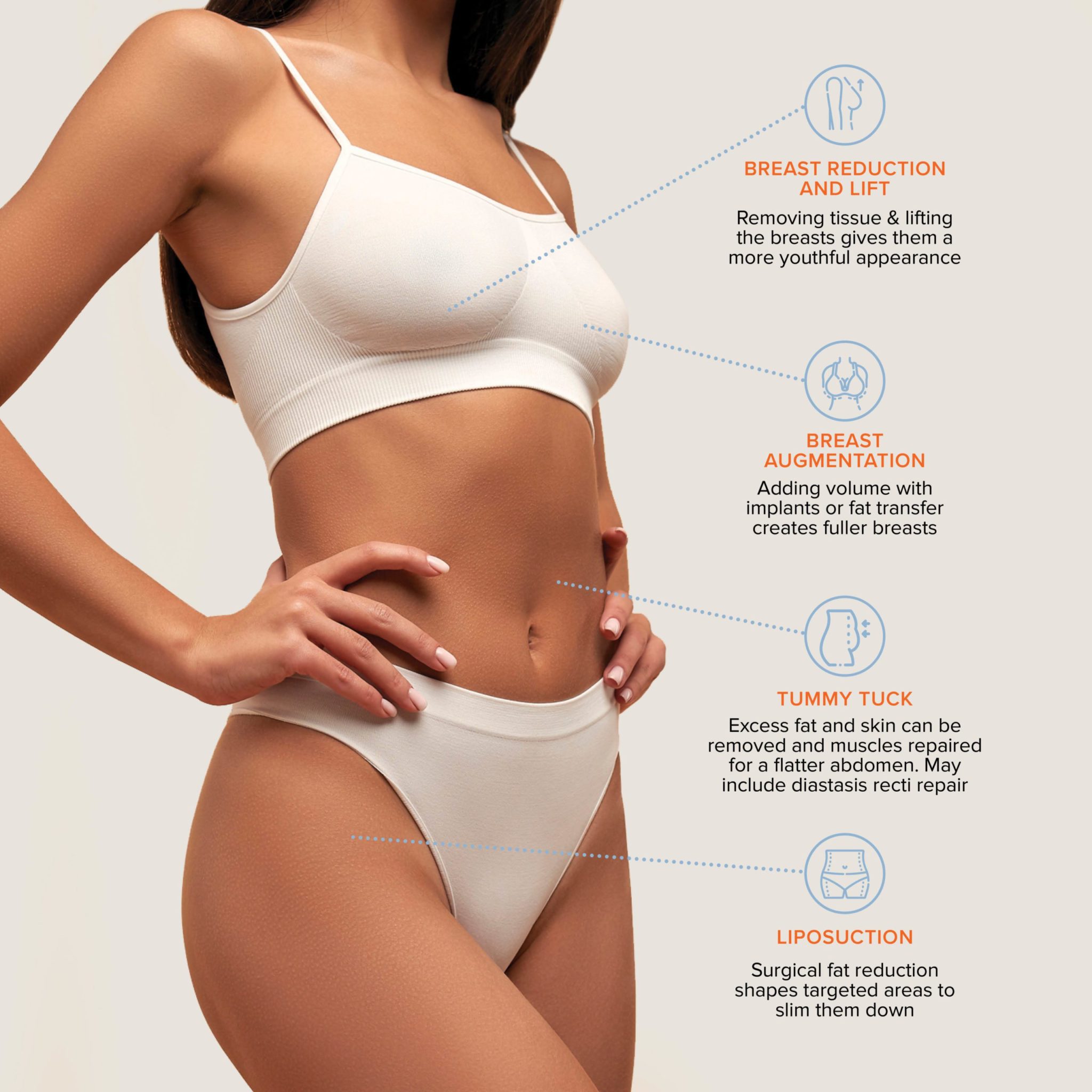 What is a Mommy Makeover?
At Viva Eve, we are setting a new standard for women's healthcare by offering revolutionary experiences in services ranging from comprehensive Ob/Gyn care to cosmetic surgery. Our newest treatment includes customizable mommy makeovers for New York women, which are totally unique for each and every patient.
Mommy makeovers are a series of surgeries designed to heal and reshape the post-pregnancy body. The most common changes that happen to a woman's body during and after the process of pregnancy include weight gain, sagging breasts, vaginal looseness, stretch marks, and urinary incontinence. Depending on the current condition of your body, our doctors will create the best mommy makeover surgery plan for any and all NYC moms.
Mommy Makeover
Typically performed as a same-day procedure, a Mommy Makeover is a set of procedures that are designed to restore the shape and appearance of the areas of the body most affected by childbearing. Viva Eve offers the following mommy makeover NYC procedures separately and collectively:
Who is a Suitable Candidate for a Mommy Makeover?
Brand-new moms and those who recently gave birth might be good candidates for a mommy makeover if they are in good overall health. Viva Eve offers mommy makeovers in NYC to mommies who are done having kids and want to achieve a more youthful, toned, and aesthetically pleasing look. We believe that every mom deserves to love the way they look!
Benefits & Risks
A Mommy Makeover offers numerous benefits, as well as some risks.
Benefits
You can get multiple surgeries at once, such as liposuction and a breast lift.
Completely remove your stretch marks and excess stubborn fat on many different parts of the body.
Your skin will be rejuvenated, and you will glow with the radiance of a beautiful new mom.
Mommy makeover surgeries are designed to be long-lasting, giving you great results for many years to come.
Get your prenatal figure back and enjoy a new era of confidence and self-esteem!
Risks
All surgeries carry some risks of internal bleeding or infection.
Some procedures require incisions that will leave scars behind.
in order to retain optimal results from your procedure, you'll need to maintain your weight.
Patient Journey
We exist to offer a genuinely better medical experience for all women. Viva Eve is dedicated to being hands-on from check-in to check-out, advocating for your comfort the entire time.
We offer:
Complimentary consultations
1-roof integrated care (Ob/Gyn, Registered Dietician, and Plastic Surgeon all working together to meet your health and wellness goals)
AAAA-certified OR (Consult, Procedure, Post-Op all under one roof)
Dedicated cosmetics concierge
24:7 patient care line
Decades of experience
Personal, high touch experience
State-of-the-art technology
Warm, welcoming environment
Patient led experience
First Consultation & How to Book
Once you've learned about everything Viva Eve has to offer, we encourage you to reach out to our New York plastic surgery team right away. 
You can book your first appointment online or by giving us a call at (212) 988-2111.
Meet Our Plastic Surgery Team
Our plastic surgery team is comprised of experienced and friendly doctors who are ready to help you live your best life through any number of mommy makeover procedures. When you visit any of our pristine locations, you'll be greeted by a whole staff of Viva Eve experts who are ready to give you the treatment that new moms like you deserve.
Mommy Makeover FAQs
Considering a Mommy Makeover? Here's what you'll need to know first.  
Viva Eve's plastic surgeons recommend that you sign up for a mommy makeover at least 6 months after you've finished breastfeeding your child. You should also maintain your post-pregnancy weight for 6 months so our surgeons can give you the most accurate assessment possible.
It would be best if you waited until you were done having children until you signed up for a mommy makeover surgery at Viva Eve. Your results are designed to last a lifetime, and having another pregnancy could stretch your body all over again.
Every mommy makeover in NYC is different, so it can be hard to estimate how long it will take to recover. You should schedule at least a few weeks off of work so you can recover from your surgeries. You may feel some pain or discomfort as you heal, but this is to be expected for the first several days following your procedure.
If you have additional questions or want to learn more about how a mommy makeover in NYC could transform your life, contact our team of specialists today. We can't wait to help you!